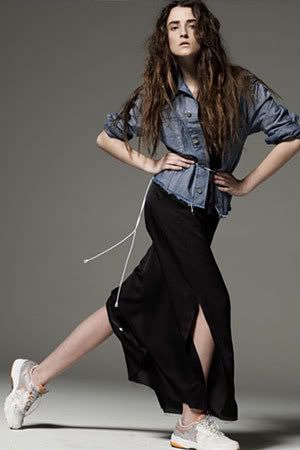 Acne
revealed their latest high-end division called
New Standard
. It's sharp and casual, in keeping with the carefully maintained
Acne
mold. But creative director
Jonny Johansson
and his team have added a new twist: This women's line is all about menswear. Taking a cue from the time-honored tradition of scooping your boyfriend's clothes off the floor, New Standard mixes male looks into a sleek, sexy collection. Here's an interview from style.com of what he had to say about it:

How will the new collection function in relation to the Acne line?

For me it's a matter of different proposals in relation to the creative collective—it's about giving room to different ideas and concepts.

Acne
is known for its wildly popular denim styles and cool basics. What items in your new collection do you hope will be coveted in the same way?

For this collection it's about menswear. It's about the coat, the shirt, and the pant as iconic men's pieces that we've elaborated on for women.


You design furniture and interiors in addition to clothing. Has this perspective influenced you in creating the new line?

I've always been into eclecticism in design. I like to take one element from one genre and one from another and tie them together.


What inspired the collection this season?

Menswear, bicycling in New York, cleanliness, and effortlessness.

If you could dress any celebrity, living or dead, who would it be?

[French model] Valentine Fillol Cordier. When I was in the process of conceptualizing this collection, I met her and she told me that all she wears is menswear. She wears it so well.