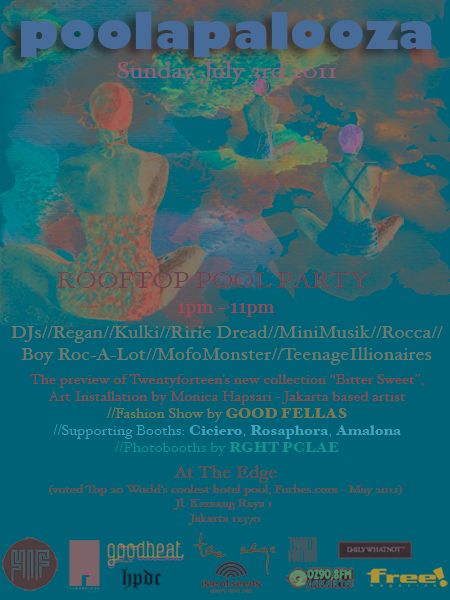 POOLAPALOOZA
is back!!
Experience The Ultimate Rooftop Pool Party in Forbes' voted one of top 20 World's coolest hotel pools!
Sunday, July 3rd 2011
Starts at 3.00pm - 11.00pm
At The Edge, Kemang Icon by ALiLa
Jl. Kemang Raya #1, Jakarta
With bewitching tunes from:
REGAN (YipYapMuzik)
KULKI
MiNIMUSIK
ROCCA (Discogusto Music Concept)
RIRIE DREAD
BOY ROC-A-LOT
MOFOMONSTER (YIF)
TEENAGE ILLIONAIRES (YIF)
Previewing @twentyforteen's new collection with an Art installation by Monika Hapsari @monyetkahapsari. Also features showcase by GOODFELLAS and pop up boutiques from CICERO, ROSAPHORA, @AmalonaDotUs
Don't forget to take a snap @Rghitpclae photo booth and enjoy our special limited edition frozen Margaritas. Cha-cha-chas !
Jump off the pool, roll on the whirlpool, you know we throw the BEST rooftop pool party in town! wham bam thank you mam!
PS: this is still a BYOT event! (Bring Yer Own Towel)