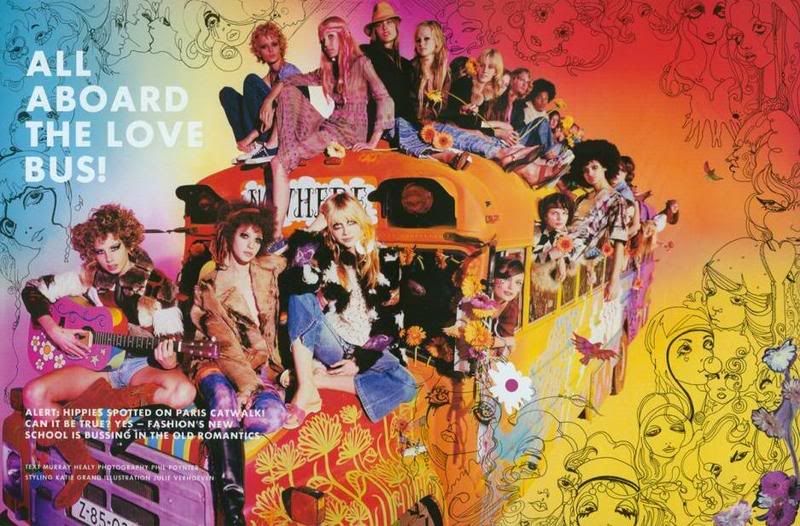 Yes, the summer of love is 40 years old, but beyond the anniversary parties, there's real boho style revival brewing that's equal parts nostalgia and twenty-first century eco-chic.
A sure sign that hippie chic is on the rise?
The arrival of the high-waisted, flared jean. Kiwi designer Karen Walker started selling hers two years ago. Now, with labels like Anlo, Deener, and Superfine offering versions, trendsetters are finally trading in their skinnies for the wide-leg style. Also new again at the denim bar is that big-in-the-seventies brand, Dittos. Frankie B.'s Daniella Clarke, the L.A. designer famous for her bum-revealing ultra-low-riders, has done an about-face, reintroducing the colorful high-rise bell-bottoms to the Me Generation's offspring.




The Whitney's Summer of Love show—a buzzy cocktail of record jackets, spin paintings, and an electro-bright furniture environment by Verner Panton—has been roundly trounced by the critics, mostly for its sugarcoating of the late-sixties moment it sets out to celebrate. But there's no denying the influence that the psychedelic movement has had on contemporary artists like Assume Vivid Astro Focus, a.k.a. Eli Sudbrack, and designer Cassette Playa.




The cinematic resurrection of Janis Joplin, the bisexual, Porsche-driving, bluesy rocker who died at age 27 of a heroin overdose, has been nearly as tumultuous as her brief existence. At one point there were warring biopics in the works. Now Piece of My Heart, a rumored vehicle for the incongruously ladylike Renée Zellweger, is languishing in development, and Gospel According to Janis, directed by Wayne's World's Penelope Spheeris, is slated for a 2008 release. the role finally went to the raven-haired, blue-eyed Zooey Deschanel. Not who we imagined as the reincarnation of the singer once nominated "The Ugliest Man on Campus," but that's what hair and makeup are for.




There's a reason why the artwork by the likes of Joplin, Ronnie Wood, and Jimi Hendrix in the traveling exhibition 1967 isn't on view at the Whitney: For the most part, its provenance is more interesting than its execution. If you're looking to get your groove on, may we suggest logging on to Wolfgang's Vault instead? The memorabilia site sells authentic concert ticket stubs, vintage T-shirts, and original and reproduction posters that will set your walls spinning.Wolfgang's Vault,

www.wolfgangsvault.com

.





Turn on, tune in, and drop out in Northern California this month at the 40th anniversary re-creation of the Monterey International Pop Festival. Jefferson Airplane will take the stage




Canadian indie-rocker Feist might bristle at the folk label—she's lived in Berlin and Paris and recorded with Peaches, after all. But like it or not, she's stuck with it: Tree huggers have championed her refusal to accept a million-dollar deal from McDonald's to use her song Mushaboom in a commercial. That's not the only reason she's got us thinking about the sixties and seventies; there's also her resemblance to those icons of the decade, the chanteuses Françoise Hardy and Jane Birkin.




The drummer for the Germs, a punk band, was recently arrested for possession of…soap. Dr. Bronner's brand, to be exact. Like some Neutrogena and Tom's of Maine products, it tested positive for trace amounts of GHB, liquid ecstasy. This incident is but one act in the very large drama that attends Emanuel Bronner, a German émigré who lost most of his family in the Holocaust and escaped electroshock treatment in an Illinois mental institution before landing in California. There he began handcrafting his hyper-concentrated soap and evangelizing his "All-One-God-Faith" message in eight-point type on its labels. Film buffs will have the opportunity to get acquainted with the company and its "Moral ABC's" when Dr. Bronner's Magic Soapbox, a 2006 documentary by Sara Lamm (who got the idea for the project in the shower—where else?), starts airing in theaters across the country at the end of June. For more information on the company and documentary, see www.drbronner.com and http://www.magicsoapbox.com/.




Perry Farrell has been doing his part to create social and environmental change since 1991, when he founded the Lollapalooza festival. These days, he and his new band, Satellite Party, are going the extra green mile. Their new album, Ultra Payloaded, which features contributions from Flea, Fergie, and Thievery Corporation, is wrapped in eco-friendly packaging, and their tour is carbon-neutral. In addition, the 48-year-old former frontman of Jane's Addiction has created a collective of philanthropists, artists, and fellow environmentalists, called the Solutionists, whose modern "free love" missive is to "party for progress" and create change through music.
www.style.com