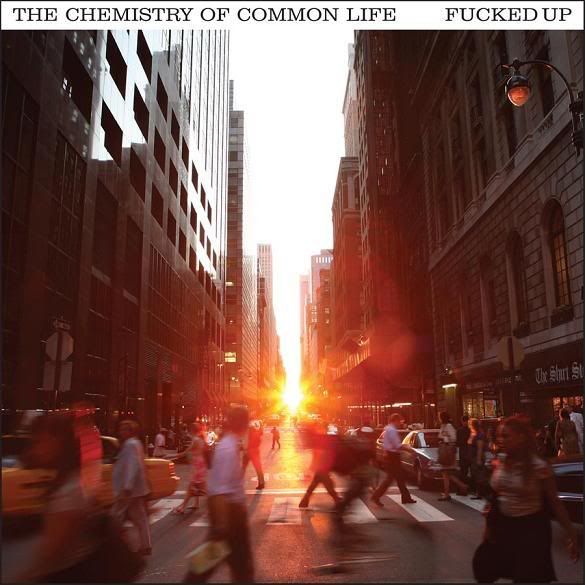 "The Chemistry of Common Life" is being released by
Matador
on Oct 7, 2008. It will be available on CD (11 songs), and itunes/2xLP (12 songs). The LP will be on 180 gram vinyl.
The album synthesizes numerous diverse impulses into an expansive epic about the mysteries of birth, death, and the origins of life (and re-living). Merging elements of hardcore songwriting with up to 70 tracks of guitars, organs, winds and vocals. Guest musicians, of course, notably gorgeous female voices such as Brooklyn's
Vivian Girls
and Toronto's Katie Stelmanis.
Though
Fucked Up
remain punks at heart, they have created a great, weird, heavy record that stubbornly sticks in your brain and your heart.
Here is the tracklisting:
1. SON THE FATHER
2. MAGIC WORD
3. GOLDEN SEAL
4. DAYS OF LAST
5. CROOKED HEAD
6. NO EPIPHANY
7. BLACK ALBINO BONES
8. ROYAL SWAN
9. TWICE BORN
10. LOOKING FOR GOD
11. THE CHEMISTRY OF COMMON LIFE
It is less than 74 minutes long. Matador is starting pre-orders TODAY, right
HERE
.