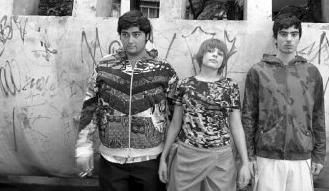 The trio Bonde do Role ("the Rollercoaster Band") hailing from the city of Curitiba, Brazil, who were instantly discovered and signed by Diplo as the first artists on his label.
Bonde Do Role churned out their own brand of Portuguese rhymes over a barrage of mashups, tangible samples, and arena rock guitar riffs, which are sampled as well.
With a drunken member of the crowd intermittently tooting his air-horn, Bonde Do Role played tracks like "Melo Do Tabaco" with a beat that consists of the mashing up of the instrumental components of Alice in Chain's "Man in the Box" and Tone Loc's "Wild Thing." When writing this tune, Bonde Do Role obviously didn't feel the need to write a chorus because the late Layne Staley's wordless "yaaah yaaah yaaah yie yie yo" did just fine. Between tracks, Ribatski would spit out sexual innuendos in English, and in the middle of them, she would point at specific people and shout, "Hey, you're not dancing!" Their set was closed out with "Solta O Frago," and while most of the crowd wasn't fluent in their language, they were able to wave their hands and scream along to the "OLE!" part.
http://www.myspace.com/bondedorole