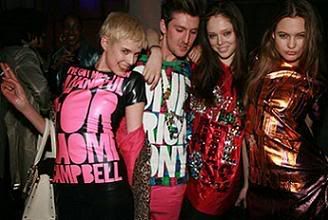 The raucous London rave scene pretty much revolves around a weekly party called BoomBox, the brainchild of promoter Richard Mortimer. It's changing the world, one weekend at a time. Last week, Mortimer and company packed up an headed for Milan to celebrate the end of fashion week. Supermodel Agyness Deyn was there and kept a little diary of the night. Here's her report.

"The girls' BoomBox night out Milan. Myself, Behati, and Coco. Running late after Versace rehearsal. Dived in the car all changing in to our House of Holland dresses, all sporting slogans. Mine says 'I'VE GOT MORE THAN A HANDFUL FOR NAOMI CAMPBELL.' Behati has 'YOU WOULD IF YA COULD CINDY CRAWFORD.' Coco has 'I'LL SHOW YA WHO'S BOSS KATE MOSS'.

One hundred people all fighting to get in. Fashion editors and drag stars sandwiched at the pearly gates. Will we ever get in? '80s classics booming out. Racing to the dancefloor though the sweat and flying limbs. Jumping around like we'd been let out for the first time. Got totally starstruck when I spotted Cassette Playa boogying on down. Love her!!!! Japanesse editors papping BoomBox regular Theo who was sporting a £1 black tulle ballgown and congealed blood body paint. His look was based on Robert Smith from the Cure, rolling around in the gravel outside. I pulled the short straw. Clad in rubber plus aerobic activity equalled a lot of sweat. Not attractive!!!! The girlies and JD retire. Running together in the road like a scene from Almost Famous. Made my merry way home with Tim Blanks's words of advice ringing in my ears: 'Rubber.....did it back in the day......gotta suffer for the look.' Thank you for reading my blog. Keep ya posted!!!! Love, Aggy xxxxxx

Spotted:
Irina, Jefferson Hack, and Anouck Lepère bustin' moves outside the porta loos.
Gareth Pugh serving whisky and vodka drinks—no mixer.
Giles working on the cloak room.
Roksanda Illincic as ciggy girl."
Photography JD Ferguson