Edited by editors of Nylon magazine
The Nylon book of Global Style

Nylon here combines its street cred and international expertise (the magazine is read in major cities around the world, and has recently launched both Japanese and Australian editions) to reveal the iconic looks in the seven most fashion-forward cities today: London, Paris, Berlin, Tokyo, Melbourne, Copenhagen and New York. Each chapter opens with an introduction describing the city's particular history, traits, and culture, followed by full-page pictures of each city's stylish residents, showing their creativity in full detail, from Tokyo's famous Goth Lolitas to Copenhagen's casual chic and everything in between. Quotes from each subject tell about who influences their personal style, what they love about their city, and their favorite local stores. Edgy, colorful, and fascinating to look at, Street is a chronicle of diverse urban style that you won't be able to put down.
The Nylon Book of Pretty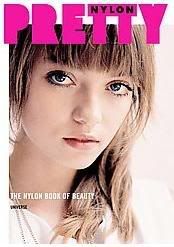 This book expands on the magazine's original brand of coverage, which goes beyond make-up application and dry step-by-steps, to give a portrait of beauty as Nylon sees it. Inspired ideas, whimsical illustrations, and cheeky text will have readers wide eyed and flush cheeked without opening a single product. Signature looks and hairstyles of legendary stars of the stage and screen will be shown, with tips on how to re-create them.
Pretty stands out from existing beauty books for its style, offering both information and inspiration about being gorgeous. With stunning visual design and all-new material, Pretty exudes Nylon's cool, natural glow and is an imperative accessory for anyone with style.
www.nylonmag.com