From left to right: Kate Nash, Jack Penate, Lou Hayter, New Young Pony Club, Klaxons, Man Like Me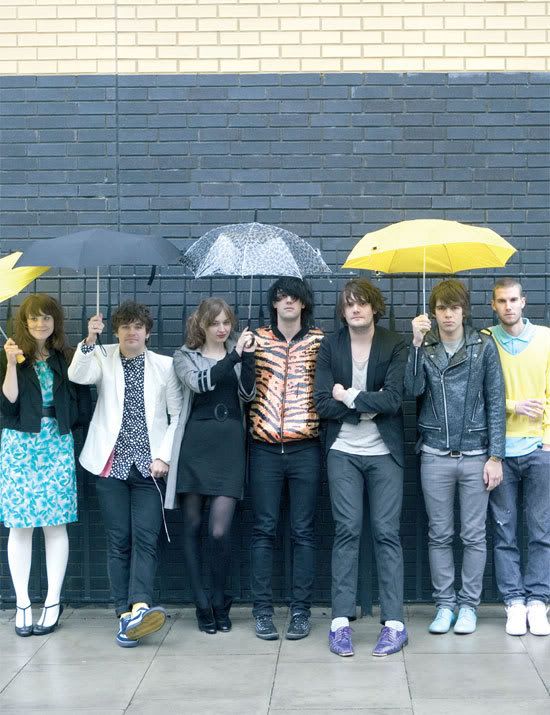 Two years ago, the East London music scene was made up of a right bunch of fucking cunts who were all into smoking crack doon the Rhythm Factory in Whitechapel and awl. They wore string vests and trilby hats and played banjos on stage. It sounded like Lonnie Donegan covering the Clash really badly. The NME coined it the "London's Burning" scene and it all ended pretty much before it started—at a disastrous photo shoot at Buckingham Palace with Martin from Selfish Cunt wrestling in horseshit with the only talented guy in the bunch: Pete Doherty.
These days all those bands are either dead or back working at Virgin Megastore. Mainly, they've been wiped out of memory by a new wave of offbeat, psychedelic, punk/new wave groups that dress like ADD toddlers given $10,000 to spend in a boutique filled with the weirdest outfits from the last 50 years of musical fashion.

Here's who they are:

KLAXONS
No joke. These guys have just made one of the most original and exciting pop records of the last ten years. When they first started playing gigs, they'd be daubed in fluoro paint and wearing shirts by East London cult designer Cassette Player. They've toned that down a bit now ever since the NME started calling them "the leaders of the new-rave movement," and every Klaxons review ever written mentioned the word "glowsticks."

Key song: "Gravity's Rainbow"


JACK PENATE
Jack's a rare breed in that he's a new British singer-songwriter that doesn't sound like Coldplay crying into a dead dog's asshole. Instead he makes music that's kind of like a "sensitive" version of the Jam. He looks like a Peanuts character who got zapped into an anime version of Oliver Twist. New Era just made a Jack Penate signature cap as well. Weird.

Key song: "Second Minute or Hour"


KATE NASH
She looks like she's going to be another Joanna Newsom elf but she sounds like Hazel O'Connor doing minimalist pop with acoustic guitars. Really odd sounding but very cute. Metronomy just did a single with her, and Lily Allen can't stop raving about how "facking amazing" she is whenever she's interviewed.

Key song: "Caroline's a Victim"


MAN LIKE ME
Man Like Me is 21-year-old Johnny Langer, whose dad, Clive, worked on records like Bona Drag by Morrissey and One Step Beyond by Madness. He makes odd, psychedelic dance-pop that sounds like some grime kids did a load of acid and went crazy in a store that sells casual sportswear to people who burgle your house for drug money.

Key song: "Oh My Gosh"


LOU HAYTER
Lou's 26 and plays keyboards in a band called New Young Pony Club. In the next couple of months she's self-releasing a single called "It Doesn't Work Like That" with a backing band/production team called the New Sins. She's mastering it at Trevor Horn's studio. That's the guy who did all the Frankie Goes To Hollywood's hits and wrote "Video Killed the Radio Star." Pretty much everybody in London has a crush on her.

Key song: "It Doesn't Work Like That"



COMPILED BY VICE UK