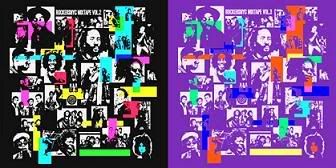 Music is at the foundation of RockersNYC's inspiration. Now they are proud to bring the world the sounds that drive their brand. RockersNYC promises their music division will be as genre-bending as their clothing division! Coming June 2007 the first three releases will be:



The RockersNYC "Pick up the Rockers" mixtapes Vol. 2 & Vol. 3…we be a total mix down in music uniting grime, post-punk, dancehall, speed metal, reggae, hyphy & beyond!!!





As well as the new album from A GUN CALLED TENSION, "The Sub Sonic Sessions"…created by Dann Gallucci (Murdercity Devils & Modest Mouse) & Sean Reveron (the Beta Band, Exodus77 & the Free Association), this album brings post-punk, new wave, dub, and indie rock together for an experience of intergalactic weirdness and the love of making music! Featured artists include: Andrea Zollo of Pretty Girls Make Graves and Morgan Henderson of the Blood Brothers.



Check out RockersNYC Records on www.myspace.com/rockersnycrecords. The CDs will be available at RockersNYC stockists worldwide and on the webstore in June.