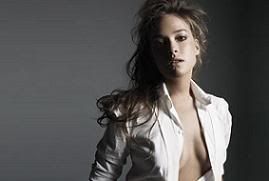 BORN IN MEXICO AND RAISED IN POLAND, ACTRESS ALICJA BACHLEDA- CURUS HAS NEVER BEEN AFRAID TO TAKE CHANCES. HER NEW FILM, TRADE, PROVES SHE'S PRETTY GOOD AT PLAYING THE UNTHINKABLE

There is a scene in Trade, German director Marco Kreuzpaintner's film about the sex slave industry, in which Alicja Bachleda-Curus's character lies beaten and raped on a filthy bed in Mexico City. Her nails are dirty, her eyes swollen. Beside her is a ripped photo of her young son—a threatening gesture made by the traffickers should she not comply with their wishes. Amid being terrified by the brutality of this illicit industry and moved by the strength and stoicism of her character, you can't help but think, My God, this girl is stunning.

Born in Tampico, Mexico, and raised in Krakow, Poland, 23-year-old Alicja Bachleda-Curus is, to cut right to the chase, an exquisite creature. All almond-eyed and pillowy-lipped, she is one of those actresses at which it is impossible not to stare. That said, even if you stared, eyes wide-open, through all three hours of Schindler's List, you probably missed her in it. She appears for a split second toward the end, playing a 7-year-old Polish girl with dreams of better things. (As a 7-year-old Polish girl who watched endless American films and had visions of palm trees and beautiful people dancing in her head, it wasn't much of a stretch). It's also possible that you failed to see her in any of the countless German and Polish films that have made her a major celebrity in those parts, most notably the 1999 film Pan Tadeusz (The Last Foray in Lithuania), which premiered privately before the Pope and went on to beat box office records in Poland. However, there is no missing her in Trade.
Karin Nelson
Trade is out in April 2007 from Lionsgate